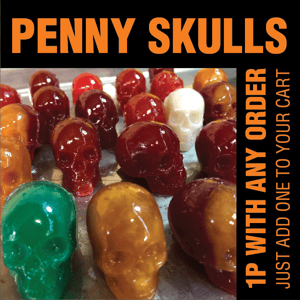 £

0.01
PENNY RESIN SKULLS. [i tried free but the store made me add a price to list them]
PLEASE ONLY ADD 1 SKULL PER ORDER.
These are just spare resin castings some people were asking about buying. I pour these with whatever resin I have left from jobs I'm working on. Th skulls vary in colour depending which one i grab from the bucket. I don't know how to price them, they aren't finished in any way. So 1 whole pence is my price. they stand about 35mm tall.
Get creative, make something cool and usable out of my waste scrap resin.
SHIPPING IS FREE ON THESE WITH ANY OTHER ITEM